Chairs for Charity 2006
Chairs for Charity is an annual gala ball and charity auction held in Melbourne. Our inaugural event, held on Saturday 25th November 2006, was a huge success with all who joined us at The Atrium - Flemington Racecourse, having a fantastic evening.
The basic concept behind Chairs for Charity is that prominent Australian artists and designers produce chairs that reflect the personalities of well known celebrities. This may be by including a portrait of the celebrity on the chair, or alternatively designing or decorating the chair based on the persona or profession of the celebrity.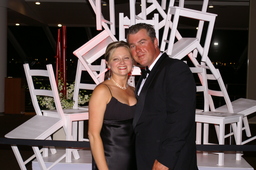 The chairs
Chairs for Charity is the first of it's kind in Australia and we were amazed by the level of support from both local and international celebrities during our first year. Some of the autographed chairs auctioned in 2006 included: Robin Williams, Al Pacino, Harry Kewell, Jimmy Barnes, Collingwood Football Club, Whoopi Goldberg and KD Lang to name a few. We are frequently getting positive results from new celebrities to join our cause and we hope to have another 40 chairs for our next ball in 2007. Click here to see the chairs auctioned in 2006.
Gough Whitlam
Marina Prior
Alisa Camplin
Pat Rafter
Collingwood FC


A night of fun and entertainment
While our charity auction is the main focus of the night, we also offer a variety of entertainment throughout the evening. In 2006 we were excited to present a fantastic ballroom dancing showcase courtesy of Dance Sport Australia, one of Melbourne's top Jazz ensembles the Mike Edwards Quartet, the comedy stylings of Damien Callinan as Emcee, and of course live music from band Hollywood Zoo who helped our guests dance the night away.
For a good cause
The best part of 'Chairs for Charity' is that we get to help three very worthy Australian causes. All proceeds from the 2006 charity auction were shared between Make-A-Wish Australia, the Australian Drug Foundation and the National Breast Cancer Foundation. These three beneficiaries provide support and hope for sadly a growing number of our population. It would be a very fortunate person who has not had a friend, relative, or loved one touched by the issues that our beneficiaries are addressing and we take great pride in being able to help them achieve these goals.
A big thank-you to everyone who played a part in making the night such a huge success! With your help we were able to raise much needed funds for our chosen beneficiaries and we look forward to doing it all again in 2007.