Chairs for Charity 2007: a great success!
The 2007 Chairs for Charity Gala Ball was held on Saturday October 13th at the Atrium at Flemington Racecourse, home of the prestigious Melbourne Cup. The event was a huge success, a wonderful night of fun, glamour and of course a chance to take home the heroes of the event - our 42 unique celebrity chairs.
A fine evening of entertainment and socialising
Our guests, dressed to impress and armed with a glass of bubbly, wandered through the brilliant chair and memorabilia gallery to the smooth sounds of live jazz. Bidding in the silent auction got underway early and continued through the night while guests enjoyed fine dining and great entertainment from Karen Knowles, The Boroondara Brass Band and Hollywood Zoo.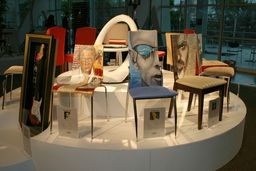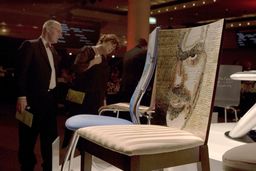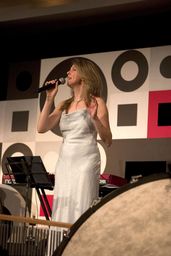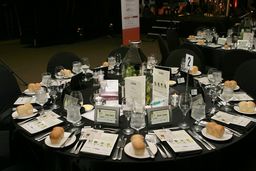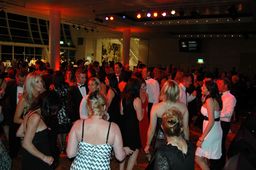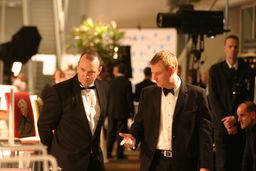 MC/Comedian Damian Callinan kept everyone smiling throughout the evening, while auctioneer John Rombotis whipped the crowd into a frenzy during the live auction segments.
Tom Petty
Dan Aykroyd
George Gregan
Mick Doohan
Betty Cuthbert


Cheque ceremony
Chairs for Charity is proud to announce that it raised a total of $60,000 from the 2007 celebrity chair auction. The official cheque handover was held on November 21st at the head offices of of diywoman and Plasti-kote, title sponsors of Chairs for Charity.
Sandra Dobbin, CEO of diywoman, said "Chairs for Charity has now raised over $90,000 for these charities in only two years. We're so pleased to be involved and do what we can to support their great work."
Representatives of each charity were on hand to accept the cheques and suggested the funds will be put to a range of uses: "The ADF will use this welcome donation to support the operation of Somazone, our youth website which provides honest, non-judgmental advice to young people 14-18 years of age" said Bill Stronach, CEO of the ADF.
The Make a Wish Australia will continue its special work in bringing joy to children and young people struggling with life-threatening illnesses. "We can grant many magical wishes with the donation from Chairs for Charity!" said Natasha Greco, corporate relations coordinator from Make A Wish Australia.
Meanwhile, the National Breast Cancer Foundation will invest the funds with a project that aims to improve the effectiveness of screening mammograms. The project is headed by Dr Murk Bottema, of Filnders University in South Australia. "We are proud to be associated with diywoman and the Chairs for Charity event" said Sue Murray of NBCF.
The Chairs for Charity Team is extremely pleased with another successful event and are looking forward to making our next event bigger and better. Please join up to our mailing list on the right to stay in touch!